Project Progress
Managing music production isn't simple. Especially with multiple clients and projects all of which may be at different stages of production. Sure spreadsheets are fun and not managing anything at all can be a wild ride, but just like driving without a seatbelt, it's not a smart long-term move. Enter Trackbits in surround sound!
Project level progress
Keep track of incomplete change requests, and overall progress
Track overview
Get track level stats including remaining tasks and viewing activity
Approvals
Request track approvals and keep a record of client sign-offs
See an overview of project progress
Get The Latest Stats
How many remaining tasks do you have left to do until you can chill and watch some Netflix in the bath? Now you know. Will you be able to finish the project in time for that vacation you can't afford? According to the project progress percentage, yes! How comment-happy is the client? Question answered. Did that client just leak your mix to their 10 million insta fans? The Total Views count has gone wild! Erm…no, that's just the automated bot you set up to feel loved.
Remaning tasks
Total comments
Track views
Percent complete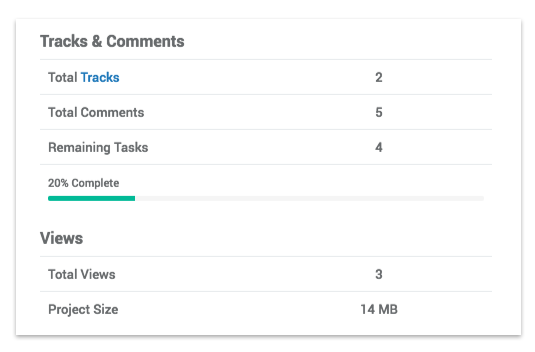 See an overview of each track
Track Based Stats
Plus answer the same questions at a track level, see your overview notes and check if feedback on that track is still open. You're going to be a music production mastermind. Muahahahaha.
Remaining tasks
View count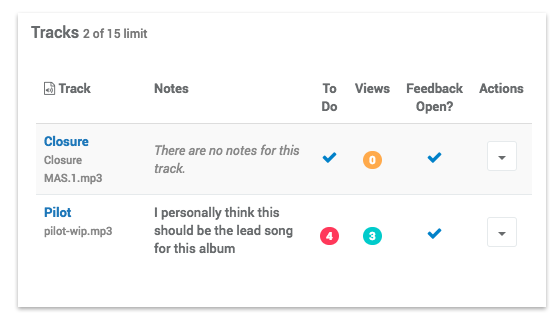 See an overview of approved tracks
Approval Status
Ask yourself, what would Rick Rubin do when managing music production? Would they hand out a finished track without any sign off confirmation and then crawl into a corner when the client came back asking if you can just fix the complete lack of melody in the vocals with a fancy compressor in the mix. No, they would not. That's why we built Track Signoffs. So you can go to sleep at night knowing that your Fitbit average will meet your weekly sleep goal. So, when you're ready to be like Mr Rubin, Track Signoffs overview gives you the sign off status for each track, who it was approved by and any sign off notes you might have. It's just logical. Brilliant, and logical.
Approved tracks
Pending tracks